The Iowa City area is home to many beautiful parks and fun playgrounds. Local parks provide ways to connect with family and friends in our communities. A visit to the park doesn't just bring fresh air and exercise — although those are wonderful benefits! Parks are for gathering, building community, and making memories that last forever. From playgrounds to picnic spots, to forest hiking trails, there's a type of park for everyone!
---
Top 10 Best Parks and Playgrounds in the Iowa City Area
200 East Park Road, Iowa City
Situated right next to the Iowa River, this park has several different areas to choose from. The playgrounds are great, including a recently opened adventure park that features a tall climbing structures with big slides. There are pavilions and grills perfect for birthday parties or big get-togethers. Basketball courts, tennis courts, walking/running trails, and big open fields make this park perfect for sporty kids and adults, too.
Aber Ave and Teg Drive, Iowa City
This park has classic looking wooden structures that give it an old-fashioned fun feel. With plenty of large trees for shade, rocks for climbing, and winding paths through bushes, this park offers a natural play setting that goes beyond just ladders and slides. Bridges, tunnels, climbing areas, and a picnic pavilion make it a great place to spend some time with your kids. Bring your shovels and pails for digging in the sand!
2701 Bradford Drive, Iowa City
Your kids will be amazed at all the different climbing structures and unique play equipment found at Mercer Park. It also has big open fields perfect for bringing along your soccer ball or football and several picnic shelters for snacks in the shade. Another great feature of this park is that it's so close to Scanlon gym. If the weather turns bad, you can just head inside to the gym for Tot Time most mornings.
800 Conklin Lane, Iowa City
Hickory Hill Park is the place to go when you're craving the tranquility of a forest hike. There are wonderful walking trails, where you'll be surrounding by flowers, trees, streams, and wildlife. When you're in the deepest parts of the park it's hard to believe you're still in town. Some important things to note: there are no playgrounds here, so if your kids are wanting to swing and slide you should choose another park. This is also not a stroller-friendly park, so you want to either have a baby in a carrier or wait until the kids are independent walkers.
170 North Dubuque Street, North Liberty
If your kids play soccer, baseball or softball you'll be spending a lot of time at Penn Meadows Park. The largest park in North Liberty, Penn Meadows provides excellent recreational opportunities for the entire family. Facilities include picnic shelters for private and group use; youth and adult softball and baseball fields; two soccer fields; playground equipment; volleyball court; new tennis courts; and a pedestrian trail throughout the park.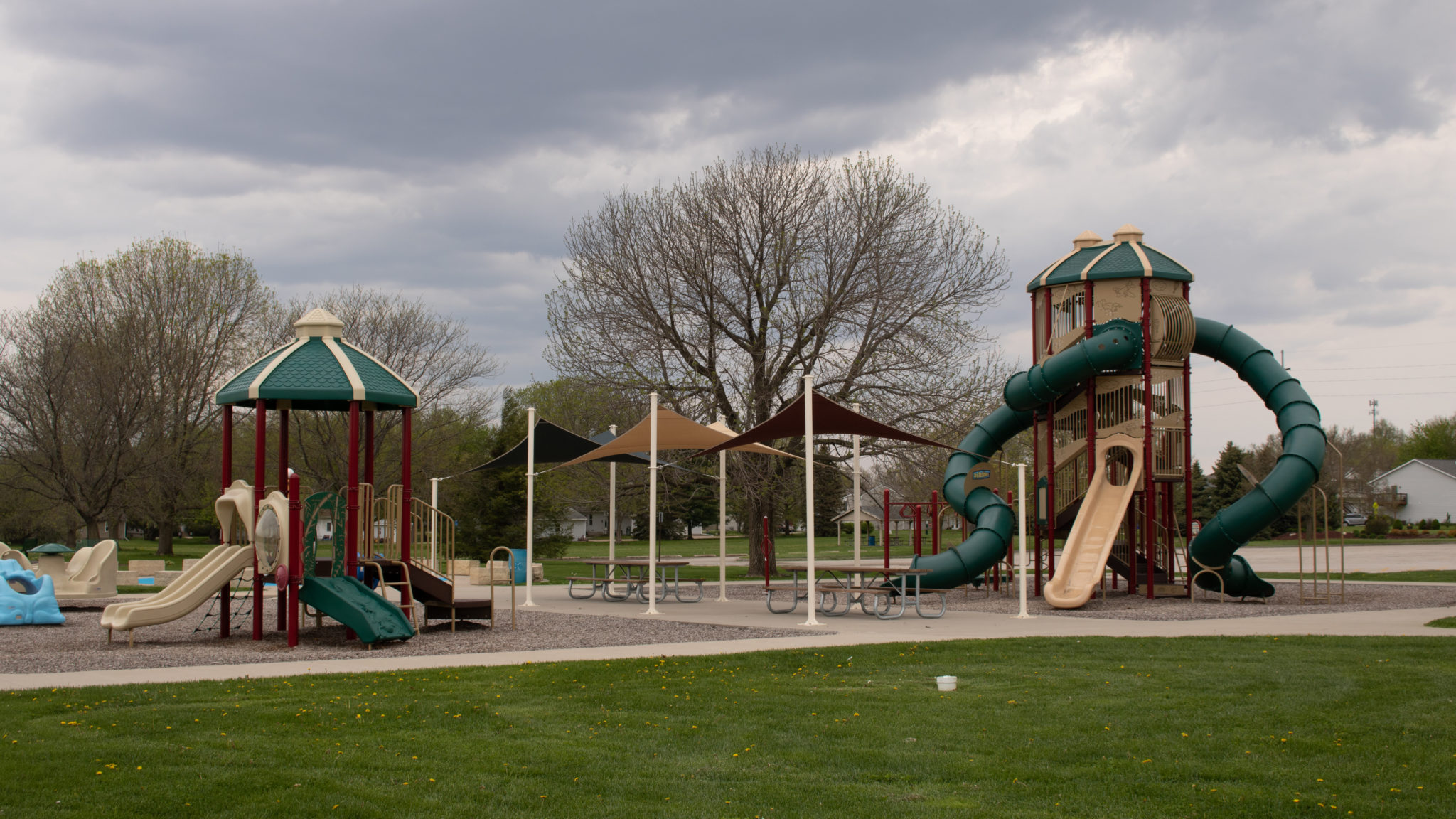 Zeller Street, North Liberty
This park has playgrounds, picnic tables, a basketball court, frisbee golf, baseball/softball batting backstop, and picnic shelters.
2250 Holiday Road, Coralville
With wide paved paths for walking or jogging, this is a great place for the stroller brigade to get together for some walking and chatting, followed by the kids playing at the playground. It has play structures and swings for both big and little kids. A giant sand area with a digger for construction fans and fun ride-on toys is great for those who are old enough to not eat the sand. The large pond at the center of the park is an ideal spot for family fishing trips. And in the winter, the hills are a great place to go sledding!
1513 7th Street, Coralville
Right next to the Coralville Rec Center, this is a park with separate play structures for big kids and little kids, as well as swings, open areas for playing catch, a sand volleyball court, and a pavilion that's great for big gatherings or  picnics. As an added bonus, the Coralville Library is just a short walk away. You can grab some books or catch storytime before or after you play in the park.
3444 Deer Creek Road, Coralville
Do you have older kids or teens interested in trying disc golf? This former family farm has an 18 hole disc golf course and a barnyard family games area that can be used for picnicking and playing bags. One thing to note, this park is only open certain hours during the week. Be sure to check the schedule before you go.
2048 Hwy 6 NW, Oxford
The Kent Park playground has a big play structure with slides and climbers. They also have swings for big kids and babies. If you want to make a day of it, you can go swimming at the Kent Park Beach, visit the nature center, hike on the trails, or take the kids fishing.
Did I miss your favorite park? What do you think is the best park or playground in the Iowa City area?

---
Related: Check out these great hiking trails in the Iowa City area and beyond!
Hiking With Kids: Favorite Destinations Off the Beaten Path Near Iowa City and Beyond
---
Have you signed up for our monthly e-newsletter? You'll receive local resources, a list of events, and access to giveaways to some favorite local businesses! Sign-up now!